Company News
Bee Line Company Achieves
ISO 9001:2008 Certification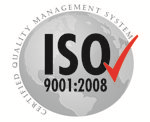 Bettendorf, Iowa, USA, June 29, 2012 – Bee Line Company has achieved ISO 9001:2008 certification, the latest ISO standard designation. In business since the 1920's, Bee Line Company has become the world's leading manufacturer of Wheel Alignment, On-Truck Tire Balancing and Frame Correction Equipment for Heavy Duty Trucks and Trailers.
With over 90 years experience designing and manufacturing precision vehicle alignment and frame correction equipment, Bee Line is able to utilize their tremendous manufacturing experience to supply customers with high quality, precision manufactured parts and assemblies. Using the same technologically advanced equipment, combined with continuous investments in new and efficient capital equipment, Bee Line Manufacturing has now become a substantial provider of manufactured parts for many outside businesses in the Quad Cities and surrounding areas.
The achievement of ISO 9001:2008 compliance further demonstrates the company's total commitment to quality-of-service standards established by the International Organization for Standardization (ISO).
The ISO 9001:2008 standard specifies Quality Management System (QMS) requirements focused on a company's ability to meet and improve upon customer satisfaction and quality requirements. As part of the certification process, Bee Line has established, maintained and improved upon its own QMS to ensure that the company's customer support organization continues its commitment to customer satisfaction.
Customers want to be confident that they are doing business with an organization that can meet or exceed their requirements in a timely manner. Because it is an internationally recognized quality management system, ISO 9001:2008 certification gives Bee Line customers a reason to have that confidence.
"The additional structure that we have added as part of the ongoing processes surrounding ISO 9001:2008 has enabled us to continue to improve and streamline our operations,' noted Steve Woodward, VP of Operations at Bee Line Company. "Ultimately, this is to our customer's benefit."
Bee Line designs, manufactures and sells a variety of cutting edge products while providing unparalleled training and customer service to its valuable clients around the world. With an absolute commitment to superior products, Bee Line utilizes the finest materials, advanced technologies and proven processes to deliver long-lasting , reliable performance.